Do you wanna dance like no one is watching to your favorite artist, or kick back and relax while listening to some good music? We got you covered.
Here's a list of local music concerts near Chester County:
Citadel Country Spirit USA
When: August 23 – 25, 2019
Where: Ludwig's Corner Horse Show
Time: 2 pm
Join Citadel in their Second Annual Citadel Country Spirit USA country concert, with big names like Little Big Town, Billy Currington, and Brothers Osborne. A portion of ticket revenue from this three day festival will be donated to The Children's Hospital of Philadelphia (CHOP). Make sure you get your tickets now before they run out.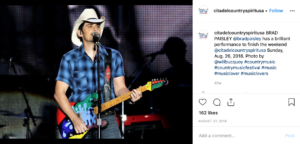 Wawa Welcome America
When: July 4
Where: Benjamin Franklin Parkway
Time: 7 pm
Wawa brings the Fourth of July Festivities to Philadelphia at it's Wawa Welcome America Event. Jennifer Hudson and Meghan Trainor will headline the FREE concert on July 4th, which will be followed by fireworks. Make sure you get to Ben Franklin Parkway early for some good spots. Check out other festivities Wawa is hosting here.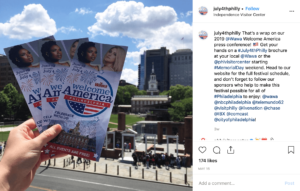 Eagleview Town Center Free Concert Tuesday
When: Tuesday's
Where: Eagleview Town Center
Time: 7 – 9 pm
Who doesn't love good music and free things? Eagleview Town Center offers FREE music concerts every Tuesday during the Summer, with great artist and bands, such as The Talbott Brothers and Dirk Quinn Band. Grab some dinner or takeout at Eagleview's Restaurant Row, or grab some water ice at Rita's before the show. To find out who else is playing, click here.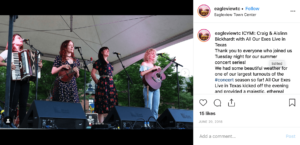 Turks Head Music Festival
When: Sunday, July 21
Where: Everhart Park, West Chester
Time: 12 – 8 pm
Head over to Turks Head Music Festival to see 11 local bands, such as Perpetuals and JaneliaSoul. The festival will also have local vendors and artisan booths. To learn more about this West Chester tradition, click here.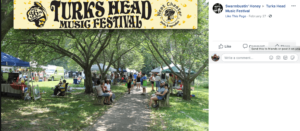 91st Annual Old Fiddlers' Picnic
When: Saturday, August 10th (Rain date: August 11th)
Where: Hibernia Park (1 Park Road, Coatesville, PA 19320)
Time:  10 am – 4 pm
Enjoy a day at Hibernia Park with good music, good food and good company. Bring your kids to come learn with musicians through instrument demonstrations, beginner jam sessions and other children activities. Don't forget to check out the Hibernia Mansion Tours too! For more information, click here.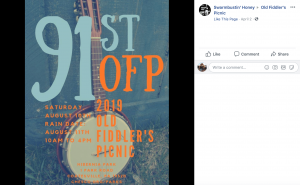 Bryn Mawr Twilight Concerts
When: Select Fridays, Saturdays & Sundays from June to August
Where: The Bryn Mawr Gazebo (9 S. Bryn Mawr Ave., Bryn Mawr, PA 19010)
Time: 7 pm
Bring your lawn chairs & some blankets, and enjoy some music from The Lewis Brothers, Cabin Dogs and others while sitting under the stars. Tickets are $15, and free for children 16 and under. For more information, click here.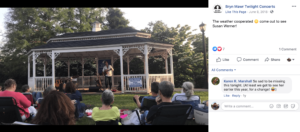 35thAnnual Concerts Under the Stars
When: Sundays from June 2 to August 11
Where: Upper Merion Township Parks & Recreation (175 W. Valley Forge Road, King of Prussia)
Time: 6 pm
A free concert series AND a beer garden? What more could a person want! Drink some Workhorse Brewing Co. beer while enjoying music from The National Reserve, Gaelic Storm and Ronstadt Revue. For more information, click here.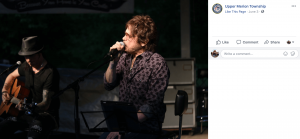 Made in America Festival
When: August 31 & Sept. 1
Where: Ben Franklin Parkway
Founded by rapper, Jay-Z, Made in America, offers a variety of music genres, food vendors and amusement rides. Headliners include Travis Scott and Cardi B. Enjoy the two festival at the parkway and enjoy all the things Philadelphia has to offer. To find out more about the festival, click here.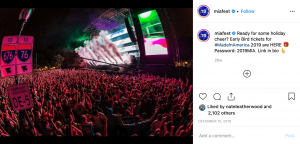 WWT Friends of the Parks Summer Concert Series
When: Sundays throughout the Summer
Where: Miller Park
Time: 6:30 pm
Join West Whiteland Township's Friends of the Parks as they host their annual summer concerts. Artists include Rob Snyder and Chico's Vibe. To find out who else is playing, click here.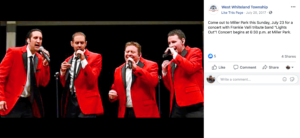 For more information on any of these concerts or the area, call a member of the Beth & CJ Stein Team of Keller Williams.