Do you remember Sunday, October 20th? Because we sure do! We had a blast and despite the freezing cold and rainy weather (literally all day long) our community came together as one! If you missed it – don't feel bad, there's always the next year! We can't wait to do this again with all of you! If we saw you at the party, keep reading and look for pictures to see if you can find yourself! See you next year! 😊🙌🥰😉
Morning
The beginning of the party…
It started off with changing our plans from an "under the sky" event to more of "under the gigantic tents" event. It turned out that the rain will be our companion for most of the party. This apparently was not a big deal because our guests kept clicking that RSVP button until the last minute before the event! We made sure that the band, food and drinks, as well as other stations, were all ready for the arrival of the supporters. Volunteers and local businesses came really early to help and be ready too!
      
Noon
Let the Party Begin!🙌🥳🙌
The rain liked our party so much that instead of leaving earlier, it decided to rain harder! the music started playing, food started cooking and guests were coming from all directions! 😲🤗🥰 If was a flood of joy, happiness, and warmth that we all needed. Kids were having the best time playing with our best friend The Clown, creating crafts and playing our giant "Jenga" game! 🤣😆🎨
Later
Keep the party going!
Everyone loved all of the attractions and guests took their time choosing which donation they want to bid on or drop their raffle ticket in. We had over 70 goodies to choose from so it wasn't easy! One of our main donations was a vacation at the luxurious beach house in Atlantic City! Who wouldn't want that? Congratulations to the winner 😉⛱🌞
The Food
What a Delicious Day!
Who doesn't love the food at fundraisers?! We had the best selection of really hot hot-dogs 😉, Jimmy's BBQ, sweet treats, cakes and cookies, and of course fresh caramel apples! Topped that with hot coffee, beer and wine tastings, and you've ended up with one happy community! 😁😂
Best Time
Our Youngest Guests made it special!
All of the kids made us realize that the rain was there to help us! It created mud and it turned out to be a special attraction that no other event had! Little ones and older ones created special mud pits and shared some great times! When it got too wet even for them, they spend all their time getting their faces painted, creating sand art and crafts, and playing games with the most friendly Clown in the world! It couldn't have been more fun! 🎈🎉😂
     
Special!
From the bottom of our hearts – Thank you.
We couldn't be more grateful for all of the support and commitment that our community showed during our Harvest Party for Unite For HER. We always try to do as much as we can to support each other and everyone in Chester County. All of our sponsors, vendors, volunteers, donors and guests made this day (that we were preparing for so long) such a great success! we couldn't have done anything without all of you. And we just wanted to say one more time – THANK YOU! 🧡🧡🧡🤗🤗🥰 And to all women out there that have been affected by breast cancer – thank you for fighting like a girl and being amazing 🙌🎗🙏🧡 – You all deserve the best!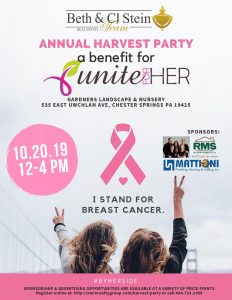 Best wishes for this fall season from the Beth & CJ Stein Team. If you have any questions on any of these events or are interested in buying or selling your home, give us a call.