Niche has published the best places to live in Chester County for 2018! It's no wonder why some communities made the list. Chester County is known for the dichotomy of picturesque landscapes and convenient local attractions. Below are some areas of Chester County ranked by Niche. Let's take a look and help you decide what part of this beautiful area is the right one for you.
Uwchlan Township
Population: 11,500
School District: Downingtown
Upper Uwchlan township, consisting of parts of Downingtown, Glenmoore, and Chester Springs, is known for its safety, comfortable neighborhoods, and unique stores and restaurants. The village of Eagle is located in Upper Uwchlan, as well as Marsh Creek State Park. Upper Uwchlan hosts notorious neighborhoods such as Byers Station and Windsor Ridge. Uwchlan Township is more in the direction of Exton and Downingtown. It features a Chester County favorite: the Eagleview Community. Uwchlan Township contains many restaurants and shopping centers as well as more quiet residential neighborhoods.
For more on Uwchlan, click here.
Charlestown Township
Population: 5,654
School District: Great Valley
With its beautiful rolling hills, and many stunning estates hidden behind horse pastures, Charlestown township features convenient proximity to Chester Springs, Malvern, and Phoenixville. The strict zoning laws keep the bucolic land and woods throughout Charlestown pristine. Charlestown is known to be a bit more pricey than its neighboring townships. It's almost entirely residential.
For more on Charlestown, click here.
Lionville
Population: 6,557
School District: Downingtown
Conveniently located, Lionville is a small neighborhood with much to do. There are numerous shopping centers, as well as both chain and family owned restaurants. Lionville also has a higher percentage of rentals – most likely because it hosts nifty townhome neighborhoods such as Liongate and Rhondda. If your looking for residential, the quiet wooded Marchwood neighborhood resides in Lionville.
For more on Lionville, click here.
Exton
Population: 4,799
School District: Downingtown, West Chester
Exton is known by many in Chester County as a hub for restuarants, shops, stores, activities, and many other attractions. Main Street at Exton, the Exton Mall, the new Whole Foods, the Exton library, and countless other creature comforts offered here are what make Exton so desirable and convenient. It is ranked the #6 best suburb for millennials in Pennsylvania. It is home to luxury neighborhoods such as Swedesford Chase and Malvern Hunt. The annual Exton fair, hosted at the mall, is a favorite among locals.
For more on Exton, click here.
West Pikeland Township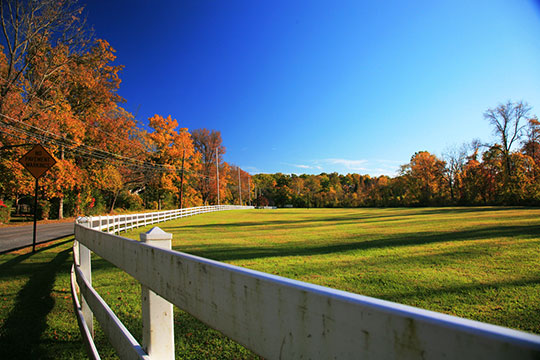 Population: 4,070
School District: Downingtown
Those who visit West Pikeland are usually struck by the beauty the land possesses. Taking up a large portion of Chester Springs, West Pikeland features quiet stunning neighborhoods such as Chantilly Farms, Fox Meadows, and Haverhill. The strong police force ranked West Pikeland the #9 safest place in Pennsylvania by Niche. What really makes West Pikeland unique is the many historic attractions: Historic Yellow Springs, the Mill at Anselma, and the Chester Springs library make the area reminiscent of the Revolutionary War. Beautiful lands to enjoy are Pine Creek Park and Binky Lee Preserve. Much of the goat cheese at local restaurants comes from the peaceful and rustic Yellow Springs Farm. The perfect mix of peaceful rolling hills and expansive lawns with quiet woods and pristine ponds make West Pikeland one of the true beauties of Chester County.
For more on West Pikeland, click here.
East Caln
Population: 4,863
School District: Downingtown
East Caln is known for its proximity to both Exton and Downingtown, as it is located directly between. It features desirable attractions such as the Downingtown Country Club, the Bell Tavern Park, and the bustling Brandywine Square Shopping Center. The neighborhoods are mostly wooded and peaceful, with quite a wide selection of homes and prices. The nearby borough of Downingtown is great for walking to stores and restaurants as well as parks.
For more on East Caln, click here.
Chester County is one of the most beautiful areas the Philadelphia suburbs has to offer. Hopefully this guide has helped you learn more about certain areas, and decide where in this beautiful county you'd like to live.