Do you know someone who just bought a new house? Maybe you are the one that took this big step, and now you are a proud homeowner? If you would like to treat yourself (because let's face it – you deserve it after buying a home!) or a new homeowner in your family for Christmas … keep reading! Do you have any ideas for a gift yet? If not, here is a list of gifts any new homeowner will actually love and use! Let us know what are your ideas for this Christmas gift-giving time! 🎁🎅🧡
Doormat
Simple, always useful.
Let's start with the obvious! Everyone needs a doormat, but no one wants to spend time or energy on trying to find the perfect one! How about you take the time and put in some effort to find a unique and special doormat that will fit perfectly with your friend or family member's style! Here are some ideas to get you started 😉
Green Thumb 👍
Succulent Subscription Box!
Does your friend have a green thumb? If they love plants, they will love you when you gift them with this awesome succulent subscription box! Why is this idea so great? Because you don't have to tell your friend that succulent care is almost goofproof! Even if they don't have a green thumb – they will be able to keep those plants alive for a long time! Recipients will get two baby succulents each month for the duration of the subscription through Succulent Studios. Help friends fill their home with organically grown plants and it will be the most thoughtful gift you can give!
Homebody Book
What would Joanna do?
Do you think your friend would like to play around a little with all that new space that they have? Help them create a home of their dreams with this "Homebody: A Guide to Creating Spaces You Never Want to Leave" by Joanna Gaines book! Let new homeowners gather wisdom from the "Fixer Upper" star with her guide to designing a home that represents the personalities who live there. They will be so grateful for your help in getting their inner-designer to see the light of day!
Toolset
Who needs a handyman?
Do new homeowners think to buy an appropriate toolset? Possibly not with all the other purchases they have to make! This awesome and extremely useful toolset will help anyone turn into a professional handyman! They will be able to fix little things around their new home, hang new art, shelves and so much more! Plus, every time they will use it – they will think of you and be grateful all over again! 😉😎 Double win! Check out this cool 76-piece tool kit now!
Classic
Little, but thoughtful!
How about something classic, like this fun magnetic key holder in the shape of any of the States of America? For the frequent key-loser, this cherry wood silhouette would be greatly appreciated, little gift. As a bonus, you can add a sentimental Christmas tree ornament that is engraved with their new address, so that they'll remember their humble beginnings years from now!
Hopefully one of those gift ideas has inspired you to find a perfect gift for the special people in your life, or even to yourself! Happy Holidays and Merry Christmas!🎄 Spend as much time with your friends and family as possible 🥰🧡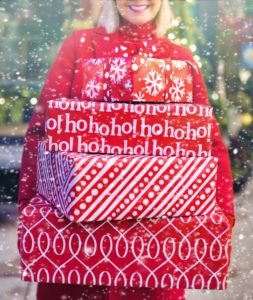 Wishing you tons of snowball fights and warm nights by the fireplace from the Beth & CJ Stein Team. If you have any questions on any of these events or are interested in buying or selling your home, give us a call.