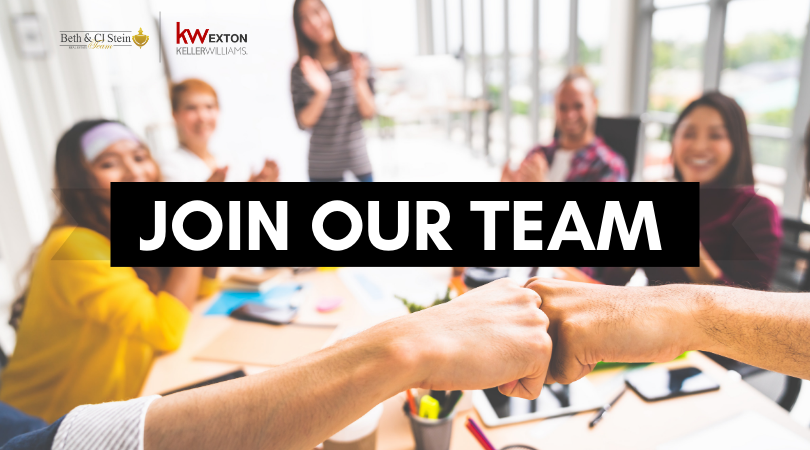 Have you hit an income ceiling and want more? Have you reached your potential in your sales career? Are you in an environment that thrives on teamwork, growth, and has the systems/models to make it happen?
If you're looking for a change, The Beth & CJ Stein Team at Keller Williams Realty is your answer!
At The Beth & CJ Stein Team you can:
Make a six-figure, commission-based income
Find the best FREE training and support
Join a winning team with a proven track record
Make a difference in our community
In order to join our team, you must:
Have the heart of a giver
Have a strong work ethic and desire to be successful
Have excellent communication skills and the ability to build your business
Be a quick decision-maker
Excel at Business to Business (B2B) sales
This is not a salaried position. Your income is entirely commission-based and provides unlimited potential.
There's a reason that we've been one of the top real estate teams in the Chester County area for many years now and have developed a reputation for being a team that cares. The Beth & CJ Stein Team sell more homes per agent than the majority of our competitors, which means you make more money.
If you're interested in joining our team of rockstars let's chat.
---
We've really streamlined the job description and responsibilities for all of our Team Members because we believe in specialization. Here's what the Agent role looks like:
Prospect – Every day. The key to success in any sales role is to prospect first, prospect daily, and prospect period.
Nurture – With clients, the time from initial inquiry to a sale, weeks, months, or occasionally years. Your ability to nurture these relationships and stay in communication with clients is the difference between average and rockstar.
Consult – This is a people business first. Our job as Realtors is to be the consultant and guide for our clients. It's our role to advise them on what it will take to achieve their home goals.
Negotiate – Top negotiation skills are necessary in order to excel.
Communicate – With everyone, always. Communication is the name of the game. There are a lot of moving parts in any real estate transaction. Your ability to set proper expectations, follow through with commitments, and communicate accurately and diplomatically is essential.
---
Ready to apply? Fill out the form below and let's chat!